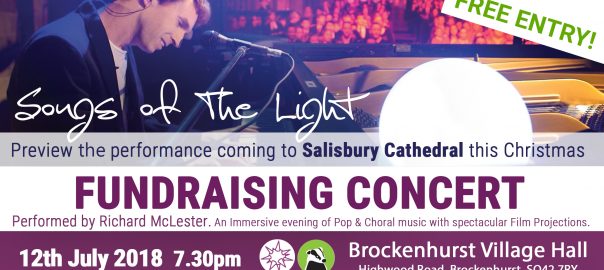 Preview Concert at Brockenhurst Village Hall
On Thursday 12th July 2018 7:30pm, we'll be putting on an exciting and immersive performance of Songs of the Light at Brockenhurst Village Hall in New Forest, Hampshire!
This December, we'll be installing 'The Light', a giant illuminated globe in Salisbury Cathedral. To launch the art installation, we'll be performing an immersive concert of pop and choral music called Songs Of The Light.
Ahead of the performance, we're putting on an open rehearsal of the music and projections. It's a free event and we'd love to showcase our plans for the project in Salisbury.
CREATED BY THE COMMUNITY
Everything that you will see; the music, the film, the giant screens, the technology that links the film and the music, has all been created by local volunteers who have given their time to create something
special.
THE MUSIC
Songs Of The Light has been especially written for the project by composer Richard McLester. In Salisbury, he'll be joined by a choir of over 150 singers to perform the songs.