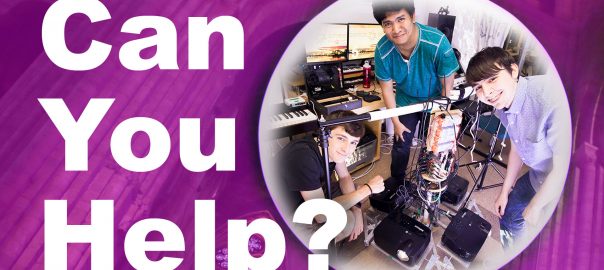 Help Students Take Their Innovation To Salisbury
This December, our giant illuminated globe "The Light" will hang in Salisbury Cathedral. BUT this time there will be a big difference from previous installations…
Hidden inside the globe will be a series of suspended projectors. The system, which projects 360° onto the outside of the globe, has been built and developed by 3 students from Poole.
It's an amazing innovation for which the students have had to learn all about Raspberry Pi's, Robotics, Electronics & Engineering, Metalwork and even AgileTM project management.
But there's still a long way to go… …including hanging the globe in the cathedral. We'll need to provide them with new tools & training to do this, professional mentoring and even a hall to hang the globe to test it out.
Can You Help Us?
We rely on grants, sponsorship and donations to provide opportunities like this for local students and young people. If you can help us continue our work & create new opportunities in the future, we'd be forever grateful…
PLEASE CLICK HERE TO DONATE
Behind the scenes from the past 8 months…
How you can make a difference…
£5 helps us fund basic tools, safety equipment & building materials
£20 buys an hour of professional '1to1' mentoring
£50 helps us buy technical materials (inc. Raspberry Pi's & Circuit Boards)
£150 allows us to run a training workshop for the day
PLEASE CLICK HERE TO DONATE