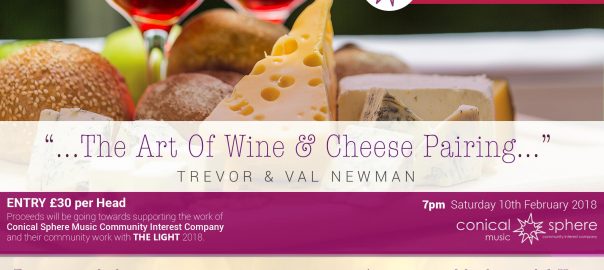 Fundraising Event: The Art of Wine & Cheese Pairing
Join flavour connoisseurs
Trevor & Val Newman
7pm 10th February 2018
to learn the fragrant art of
Wine and Cheese Pairing
.
An opportunity to try wines and cheeses you might not otherwise get to try and enjoy pairings reccomended from Trevor and Val's extensive experience of pairing flavours.
Each wine ( with a minimum value of £30 rrp ) and cheese has been individually sourced from France and imported especially for this occassion! You'll have the chance to learn about each one and discover why they've been chosen to go together.
Beautiful harp music from Stephanie Liney will accompany your flavourful evening and the event begins with a champagne reception.
Space is limited to only 12 places so early booking essential.
Entry: £30 per head – all funds will be going towards supporting the work of Conical Sphere Music Community Interest Company and their community work with The Light in 2018.
PHONE 01202 984784 TO BUY TICKETS