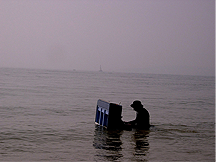 The Piano In The Sea was a piece of performance art by Richard McLester performed in the front of the Mayor of Poole, Councillor Judy Butt on Sandbanks Beach during Easter 2008.
The piano was painted and varnished with the words "…For everything there is a season, and a time for every matter under heaven…" by Richard.
Pianist Sam Hanson gave the piano a send-off by playing the Holberg Suite by Edvard Grieg on the beach before both performers and a team of volunteers carried the piano into the sea. Each player then took turns to improvise on the piano whilst in the water.
For onlookers, the piano and performer formed a lonely figure journeying the vastness of the ocean. From a performers point of view, the aim was to see how performing surrounded by the sea and waves would affect the music composed and improvised.
Photo Gallery
To see more photos of the Piano In The Sea, click on the thumbnails from the gallery below…